Pricing in Gorilla
---
Gorilla is priced 'per participant'. All new users automatically start on a Pay-per-Participant account type. Pay per Participant means exactly that - you pay for just the participants you want to recruit for your study, without needing to buy a yearly licence subscription.
A Pay-per-Participant account gives you full access to the features available on Gorilla, including:
Task Builder Script feature
All Code Editor tools
All Recruitment options
You purchase tokens for your account, and every token allows you to collect data from one participant. It is completely free to create an account and build a study - you only need to pay when you want to collect data. A benefit of this approach is that regardless of how many people are working on a study, and therefore how many researchers in a team are using Gorilla, the fee only changes based on the amount of data collected. So it's cheap for small studies (often students) and more expensive for large studies - which seems fair!
The easiest way to get started with Gorilla is to buy a small number of tokens (e.g. 20) online at the pay-as-you-go rate (£2.00 for commercial research, with considerable discounts for academic and public sector research).
In addition to our pay-as-you-go rates, we offer lab, team and departmental licenses. Find out more about academic subscriptions in the Academic Pricing section.
---
Gorilla offers flexible, scalable pricing. Visit our Pricing Page to find out more.
---
If you can't find an answer to your question here, please get in touch with us. We are always happy to help you.
---
What are Tokens?
---
To make Gorilla as accessible as possible at any level of budget, use of the Gorilla software is free and we only charge for access to the data collected. In this way, anyone can sign up for an account and collaborate with another user - at no cost. Students - who typically collect data from only a few participants - can use Gorilla cheaply. And researchers - who typically collect more data - pay a bit more.
In order to collect data for your experiment from participants you need participant tokens.
One token is needed for each participant in each Gorilla experiment. It's one token regardless of how long the experiment is. It's also one token even if your study has multiple testing session (using the delay and repeat nodes) within one experiment. Current Pay-As-You-Go prices are shown here.
You can limit the number of participants recruited for an experiment - and therefore the total number of tokens you wish to use - by setting the Recruitment Target for your experiment. Giving you complete control of when tokens are consumed.
When are Tokens Consumed?
---
Gorilla charges one participant token per participant per experiment.
When a participant starts your experiment the Start Node reserves a token for them. When that same participant enters the Finish Node that token is then consumed.The token this participant consumed is then permanently removed from your accounts token total.
If the participant does not enter the Finish Node, and does not pass through a Reject Node, the participant's token will remain reserved until they are Included or Rejected (either manually or via a timelimit).
Including participants permanently consumes tokens. Once a token is consumed it cannot be reused or reclaimed.
Rejecting participants returns their reserved tokens (unless you have previously included them). Rejected participants can later be Included, as long as you have sufficient remaining tokens in your recruitment target.
The total number of participant tokens that can be consumed during an experiment is set using the Recruitment Target giving you complete control of how many tokens you use for an experiment. Both reserved tokens and fulfilled (consumed) tokens count towards your experiment Recruitment Progress.
To better understand Participant Status and learn more about Including and Rejecting participants see our How To: Participants guide.
---
Academic Pricing
---
What are your academic rates?
Academic researchers can purchase tokens at a discounted rate of £0.85 per token - simply sign up to Gorilla with an academic (i.e. .ac.uk or .edu) email address to receive this discount. If you believe you should qualify for the academic rate, and this hasn't been set on your account automatically, please contact our support desk who will be able to help you further.
If you are planning to conduct a large study or if you would be interested in a team subscription, you may be able to obtain further discounts.
---
Lab and Team Subscriptions
If several people in your lab or team will be using Gorilla, you can reduce costs by buying a lab subscription! This allows multiple people to have access to the same pool of tokens. A licence subscription gives you tokens (either an agreed number or an unlimited amount) which you can assign to your experiments, so there is no need to purchase tokens beyond your subscription. Your licence subscription also allows you full access to Gorilla's support services.
Our subscriptions take the same one-token-per-participant approach, but as you are bulk purchasing tokens you are able to access a heavily discounted rate.
Members of your lab (each with their own Gorilla account) would be added as members of your lab subscription. This would give them the ability to request tokens from the subscription for their own study. Some labs like to work this way to share the tokens between them. You could also do this across several labs.
---
Department Subscription
If several research groups or student cohorts want to use Gorilla, then you can reduce costs by buying a departmental subscription.
We have subscriptions that can suit any budget, with a flexible approach which mean you can be confident that you won't miss out on the best deal.
If you would like to receive pricing for our department or lab subscriptions, you can fill out our pricing form and get the information emailed straight to you!
---
I don't know if my department has a subscription
If your department has a subscription, you will not need to pay per participant. A list of institutions with subscriptions is available here. You can find your subscription status through 'My Account'. If you think you should be on a subscription, please contact your department's subscription manager.
---
Request a Quote
Contact us at info@gorilla.sc to discuss a quote for your team or department. It's useful if you can let us know the size of your team or department (students and researchers) and - if you have an idea - how many participants you are likely to collect data from in a year.
---
Do I Qualify for Academic Pricing?
---
To qualify for the Academic pricing tier you must use your academic email address in Gorilla.
You can find out more about the different Pay per Participant pricing tiers here.
I didn't use my academic address to sign up to Gorilla, what can I do?
If you have set up your Gorilla account with a non-academic address you can change your email address at any time on the My Account page.
I signed up with my academic address but I'm still on commercial pricing, what can I do?
If you are from an academic institution but your academic email is not being recognised by Gorilla, please get in touch with us with proof of your academic affiliation.
My university requires an invoice, how can I get one?
We are able to provide invoices in advance of a purchase for for our academic subscriptions. To learn about our subscriptions, see our pricing FAQ, here.
For purchases of pay-as-you-go tokens, Gorilla will automatically generate an invoice for you. The invoice will include the name and email address of the account holder, so make sure that these are correct at the time of purchase. If you need to add a VAT number, you can also do this when making the purchase.
To access your invoice, go to the Billing tab on your My Account page, here.
Review and negotiation of additional (University) Terms and Conditions:
So far, all universities have accepted our T&Cs. We recommend contacting your procurement department early in the process, as it often requires a senior procurement manager to review the risk profile and 'sign off'. If we have contracted with your university before, we may be able to put you in touch with the right person. We reserve the right to charge an additional risk premium if our risk profile changes.
If you are unable to resolve the issue with your university, contact us: we will be able to either help you resolve the issue or provide you with a quote for completing additional requirements.
---
Purchasing through your department
---
Option 1:
Make the purchase on a personal credit card, then reclaim it through your department expenses system.
Gorilla will automatically issue you an invoice for every purchase you make on the site. To view your invoices, just go to your My Account page and click on the Billing tab.
Note: If you want to add a VAT number to your invoice, there is an option to do this before you make the purchase. See the next tab of this FAQ for more details.
Option 2:
Pay using a department credit card.
Go to your finance department
Log into your account on their machine
Purchase the tokens online. Make sure you include you institution's VAT number, this will ensure VAT is waived as it is subject to the reverse charge mechanism.
Download the paid invoice (My Account > Billing) from Gorilla and give a copy to the finance team. It will have all the details they need on it.
---
Option 3:
If you purchase a team subscription, we can issue you an invoice in advance of the purchase. Prices start at £1,200.
To receive pricing for our team subscriptions, fill out our pricing form and get the information emailed straight to you!
---
Paying VAT
---
When making a purchase on Gorilla, you'll have the option to add your organisation's VAT number.
Note: it is not possible to change the VAT treatment of a purchase after the purchase has been made.
You can see how to add a VAT number in the screenshots below.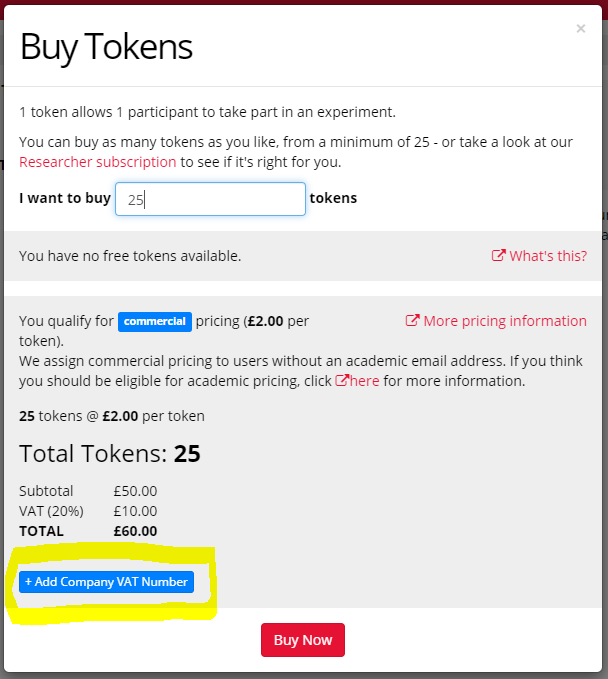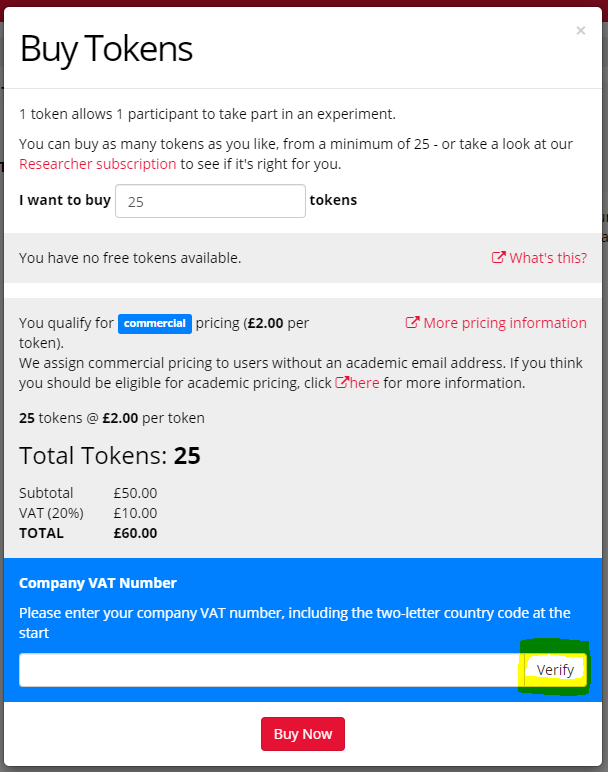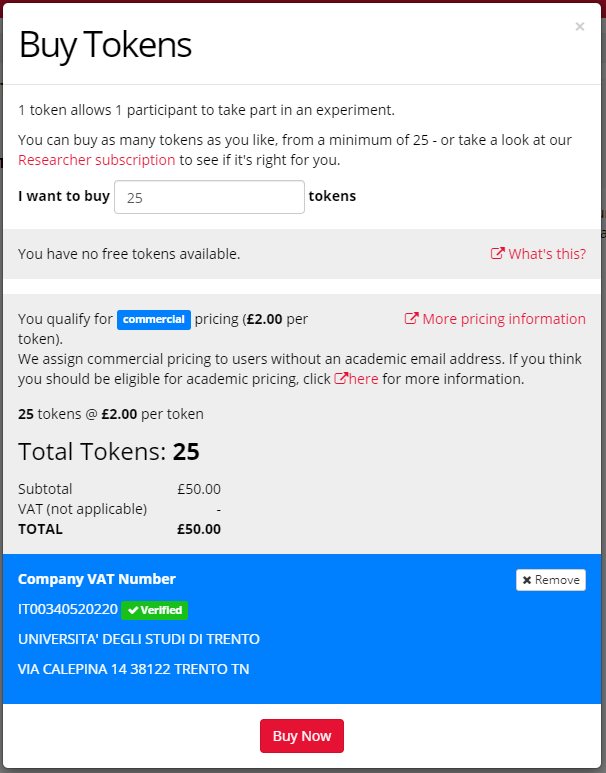 ---
Assigning Tokens
---
In order to recruit participants for your experiment you will need to set a Recruitment Target on your experiments 'Recruitment' page. This will assign tokens to your experiment from your accounts total.
Note: You will only be able to change the recruitment target if you are the project owner (you created the project). Collaborators are not able to assign tokens.
You cannot assign more tokens to an individual experiment than the total number of tokens you have left on your account. If you wish to recruit more participants than you have available tokens you must first buy more tokens.
You can change your recruitment target at any point during your experiment.
Increasing the Recruitment Target total will assign additional tokens from your account.
Decreasing the Recruitment Target total will un-assign tokens from your experiment and return them to your account, where you can then freely assign them to other experiments. However, consumed tokens cannot be reclaimed or reassigned. Therefore, you cannot change the Recruitment Target to be lower than the number of tokens already consumed plus the number currently reserved.
You can view which experiments you have assigned tokens to on your My Account page.
---
Subscription Tokens
---
If your department is on a metered subscription, you will need to request tokens. Your department will set a limit on the number of tokens that can be granted to each user automatically upon request, and any further requests will have to be approved by your subscription administrator. The workflow for this is built into Gorilla so that it is as easy and efficient as possible.
You can request tokens either:
Through your account page

Through the 'Change Recruitment Target' settings in your experiment
After you click the 'Request Tokens from Subscription' button, you will need to fill in the Token Request form. See your subscription administrator for the details you need to include on this.
If your request is below your individual limit, the request will be granted automatically. If it is above this limit, you will be notified by email whether your request has been approved or denied.
---
Adding More Tokens
---
You can purchase more tokens at any time by clicking a 'Buy More Tokens' button which will take you to the 'Buy Tokens' menu.
There are two main places where you can Buy More Tokens:
Your main account page: My Account
The 'Recruitment' page of any experiment.
When you purchase more tokens, they are immediately added to your account. You can then assign tokens from your account to your experiments as you see fit.
You can find out about the different Pay per Participant pricing tiers here.
---
Discounts and Free Tokens
---
Discounts
If you're purchasing a large number of tokens, buying a lab or departamental subscription will be the most economical for you. See the Academic Pricing section or our Pricing Page for more information.
Earning Free Tokens
You can earn free tokens via our Referral Scheme! Every time you refer a friend or colleague to Gorilla, each of you will receive 20 free tokens. These essentially give you a 50% discount on future purchases. You can find out more about free tokens here.
---
Recruitment Services
---
Gorilla is an experiment builder - it allows you to build and deploy your experiment in an online environment with ease. However, it isn't a participant recruitment service. That's a very different kind of service - which requires very different skills - and so we leave that to expert participant recruitment services.
Gorilla is designed to work with participant recruitment services. Some that tend to be favoured by behavioural scientists include Prolific, Sona, mTurk, Qualtrics and Dynadata. However, Gorilla should work with any good recruitment service.
We also provide a variety of ways to recruit participants yourself by sending a simple link, or sending custom links by email.
---
Consultancy
---
Project Consultancy
We offer a bespoke consultancy service. We can help you to build a specific experiment with tools that already exist in Gorilla, or we can make your experiment possible by building a new feature.
See our collection of the consultancy projects we have created here!
Prices start at around £1000 per day + VAT. If you are interested, please get in touch with us (info@gorilla.sc) and we will be able to provide you with a quote.
---
Scripting Consultancy
We also offer scripting consultancy to help out with scripting your Questionnaires, Tasks and Experiments.
See our Scripting Consultancy page here for more details and examples!
Find out more
---
What are your rates for the public sector?
If you work in the public sector, you will be able to buy tokens at a discounted rate of £1.25 per token. If you are planning to conduct a large study or if you would be interested in a team subscription, you may be able to obtain further discounts.
Can I buy tokens in any currency?
Tokens can be bought in USD, GBP and EUR. Your currency should be automatically updated based on your location - if you have any problems with this, let us know at info@gorilla.sc.